Mac Mini rivals: Five small form factor PCs that want a bite of Apple's pie
Small computers for days.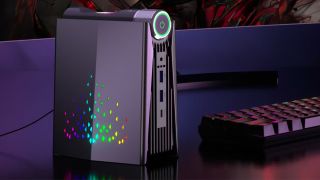 (Image credit: AceMagician)
If you want a compact computer, then the Mac mini is one of the best options that you can find. For a Mac, it's very, very well-priced, and comes with some super powerful chip options, along with a very small desk footprint. But what if you don't want the glorious aluminum slab, what if you want to shop around and see if you can find anything better?
We've had a play with a few other options to see what kind of competition the Mac mini is up against. We've got a compact, Intel gaming monster that munches anything that gets close, an AMD-powered mini PC that's got a knob on the front, and a little box running an unconventional operating system.
How do these machines stack up against the Mac mini, and should you go for something a little different that might not be powered by macOS? Or should you stick with one of Apple's best Macs, and forget that there were ever any other micro PCs at all?
Mini PCs are some of the coolest devices out there and I've tested some of the best to find out which of them are worth your time. These Mac mini competitors have all been on my test bench, and I've worked with Gerald, Editor-in-Chief and Mac mini expert to make sure that they're a good bet.
Mac mini
The standard
Specifications
Ports:
Two Thunderbolt 4, Two USB A, HDMI, 3.5mm headphone jack
Dimensions:
7.75 x 7.75 x 1.41 inches
Before we look at the contenders, we should probably remind ourselves of what the Mac mini has to offer besides, you know. Being a Mac. There's the obvious latest version of macOS on board, with all the bells and whistles that come with it, powered by your choice of M2 or M2 Pro chip. That latter one is pretty powerful, but you'll have to pay a hefty chunk to get it.
In fact, while the base model starts at a great price of $599, once you start popping upgrades on, you'll soon see that price burgeon beyond reasonable affordability. It's never an expensive machine, but it does move beyond cheap pretty quickly. RAM upgrades are around $200 for every extra step you take, and larger SSDs are even more. If you want the M2 Pro option that we talked about before then you'll be paying north of a grand – which is a lot of money.
The base model, however, if taken as a standalone option, remains an excellent investment if you're looking for a powerful desktop companion. Its numbers are even super impressive:
Swipe to scroll horizontally
| | |
| --- | --- |
| Cinebench | GeekBench |
| Multi-core: 8761 | CPU multi-core: 9970 |
| Single-core: 1621 | CPU Single-core: 2621 |
| Row 3 - Cell 0 | GPU: 26986 |
Those stack up well against even more expensive hardware – especially when you consider that we benchmarked the base model with M2 and 8GB RAM. So we've jogged our memories now – let's see the competition.
AceMagician AMR5
Little gaming box
Specifications
Processor:
AMD Ryzen 5 5600U
Ports:
Four USB type A, USB type C, 3.5mm headphone jack, display port, HDMI
Dimensions:
5.23 x 2.83 x 6.15 inches
This weird-looking little obelisk is the AceMagician AMR5, and it's a very interesting little computer. It's powered by an AMD Ryzen 5 5600U, a pretty snazzy little processor. It's what's called an APU, or an AMD Accelerated Processing Unit – this has a CPU and graphics processor all in one little chip, meaning that a powerful computer can be made in a much smaller package. In fact, that makes it more similar than anything else on this list to Apple Silicon, which also have both CPU cores and GPU cores in one chip.
Obviously, the AMR5 is smaller than a Mac mini, with its upright stance and tiny footprint. It's also a fairly potent computer, packing in that AMD APU, as well as a 512GB SSD, and 16GB of RAM. Even better is that it is super easy to upgrade, with a magnetically attached side panel that allows you to access an extra PCIE drive slot as well as the memory modules. For something so small, it's very impressive.
One of my favorite features of the AMR5 is the power button – a knob that turns around, clicking into place in three intervals. Those intervals let you choose a power mode, from Eco, Auto, and Performance. Eco makes sure that the AMR5 is running as efficiently as possible so that it's not using as much power. Want to play some games? Turn the knob to the performance setting and enjoy all the juice you'll need to play some games.
Don't expect those games to run like you're using a custom-built gaming PC, or like a PS5 or Xbox Series X, and you'll find the experience completely acceptable. Framerates are good if you crank down the details, and for such a tiny little box, it's impressive the graphics it can pump out.
Swipe to scroll horizontally
| | | |
| --- | --- | --- |
| Cinebench | GeekBench | 3DMark (Time Spy) |
| Multi-core: 6875 | CPU multi-core: 6127 | Total: 1270 |
| Single-core: 1257 | CPU Single-core: 1787 | Graphics: 1122 |
| Row 3 - Cell 0 | GPU: 13947 | CPU: 5049 |
We should mention that for the Windows machines, we've used 3dMark as well to get an idea of the graphics performance of the machines. It also allows you to compare them with each other. The AMR5 here puts up some strong numbers, and while they might not be quite as good as those on the Mac Mini, they are plenty to get some light gaming done.
It runs on Windows 11, which does have some improvements over previous versions of the OS. If you're looking for MacOS, however, it's not going to scratch that Apple-shaped itch, but for those willing to tinker a little it's super easy to get Linux installed if you want to try something a little different.
How much does this potent little package cost? $499. That's a fair sum less than the Mac mini, and it comes with (on paper) greater specs than the base model Mac – double the RAM, and double the SSD storage.
All in all, the AMR5 is a lovely little gaming mini PC that boasts lots of power, a funky-looking design (replete with RGB lighting for gamers), and a great price.
Intel NUC 12 Enthusiast
The powerhouse
Specifications
Processor:
Intel Core i7-12700H
Ports:
Six USB type A, two USB type C, 3.5mm headphone jack, HDMI, two display port
Dimensions:
9.1 x 7.1 x 2.4 inches
This monster is for those looking at the more readily equipped Mac mini. An Intel NUC, or 'Next Unit of Computing', is what Intel uses to show off all of its finest hardware. That could be fitting a super efficient PC in a tiny form factor, or an absolute monster of a gaming PC in a smaller, desk-friendly footprint. This one is particularly potent and comes loaded with some serious hardware.
The core of the NUC 12 Enthusiast that we have here contains an Intel i7-12700H, with 14 cores, 20 threads, and a new Intel Arc A770M Graphics card inside it. It also has everything else you might need from a mini PC, including WiFi 6 and Bluetooth 5.3. It is built from the ground up for one thing, and the glowing skull on the side gives you a good idea of what that is – gaming.
It's also pretty upgradeable – you can pop new RAM modules in there so that you can do more multitasking and you can add more M.2 storage drives to really up the capacity of your NUC. This, as with some of the other options on the list, is something that the Mac mini absolutely cannot do. Upgradeability simply isn't something that modern Macs are capable of.
When you buy your NUC, it interestingly doesn't come with an OS, and you have to choose one for yourself. Alas, one of the options isn't MacOS, but you can go for any of the Windows options or a Linux system. For gamers, however, Windows will be the way to go.
It's not cheap. This one costs $1899 instead of the $1400 of the M2 Pro Mac mini, but for that money, you get something that's the same size but that will smash through some of the latest games with ease. No, it's not going to match a similarly priced custom gaming PC, but it is going to get remarkably close. We played some games, and got these numbers:
We also ran some benchmarks to get an idea of the potency of the machine, compared to the Mac mini:
Swipe to scroll horizontally
| | | |
| --- | --- | --- |
| Cinebench | GeekBench | 3DMark (Time Spy) |
| Multi-core: 16376 | CPU multi-core: 11299 | Total: 11227 |
| Single-core: 1758 | CPU Single-core: 2318 | Graphics: 10985 |
| Row 3 - Cell 0 | GPU: 88823 | CPU: 12830 |
These are the highest numbers you'll find on the list, and it means that the Intel will buzz through anything you throw at it with ease.
This PC proves that small form factor does not mean cheap, or pokey – instead showing that if you spend the money on something a little more impressive, you get something that will blow you away. For gamers, this is going to be your best bet.
Equally, this machine isn't just for gamers. All that processing and graphics grunt makes it perfect for those looking for a wickedly powerful small form factor desktop for workloads like video editing, photo editing, or programming – that puts it a little further into the ballpark of the Mac mini. It is an interesting alternative for sure, and one that should have your attention. It does stretch the definition of mini PC, however – this thing is big. Bigger than a Mac Mini, that's for sure.
Acer ChromeBox
The odd one out
Specifications
Processor:
Intel Celeron, Intel Core i5
Ports:
Five USB type A, USB type C, 3.5mm headphone jack, two HDMI
Dimensions:
5.7 x 5.9 x 1.5 inches
This Mini PC is a ChromeBox, so called because it doesn't run Windows or MacOS – it runs Chrome OS. ChromeOS is Google's lightweight operating system that started out as effectively a dedicated web browser that you could use on low-power machines that remained super speedy and responsive. Since then things have moved into a Chromium-based, Linux-esque desktop environment that users of both Windows and MacOS can quickly become accustomed to.
The ChromeBox in question is the Acer CX14, and it's actually one of the more powerful options that comes with ChomeOS on board. Traditionally, you'd find it on laptops or 'Chromebooks', but ChromeBoxes allow for more powerful hardware without the need to add a screen and keyboard.
The Acer has an Intel Core i5 10210U processor, a lot more powerful than the normal Celeron options, and paired with 8GB of RAM it's going to smash its way through ChromeOS. During my time with the ChromeBox, I noticed no slowdown at all even when running multiple Chrome tabs. Is the power overkill for a low-power operating system like ChromeOS?
Perhaps slightly, but it means that the little box is capable of playing Android games without issue, opening plenty of Chrome tabs, and even doing some other slightly heavier workloads.
If you're looking for something that's a little cheaper than this one for a younger kid, then something like the ChromeBox with a Celeron processor would be perfect. For a teenager that needs something to do more than just a little work on, however, or for a family computer, this is perfect.
In fact, the idea that this computer should be for kids seems baked in from the start. Setting the computer up you'll spot a kids' setup mode so that you can decide on security and safety settings to make sure that it's safe for kids to use. It will even play the Android version of PubG, or Minecraft – and do it pretty well too. Getting homework done on the machine will be no problem at all either unless they need to be doing complex video rendering tasks. Which is unlikely.
It comes in the box with a full-size keyboard and mouse so that it's ready to go, and all you'll need to hook up is a monitor – something none of the other entries on this list feature. Unfortunately, there's no way to run benchmarks here, so we can't get an idea of the numbers, but the ChromeBox more than makes up for it with the performance. It's not the cheapest on the list, but it's a very good option for kids and even the elderly.
Geekom IT11
The smallest
Specifications
Processor:
Intel Core i7, Intel Core i5
RAM:
16GB, 32GB (upgradeable)
Ports:
three USB type A, two USB type C, 3.5mm headphone jack, HDMI
Dimensions:
4.6 x 4.4 x 1.8 inches
The Geekom IT11 is tiny – but very well-built, and very powerful. It's smaller than pretty much every other PC on this list, and yet still has an excellent selection of outputs and inputs on the back. It's also, for the price, very well appointed.
The IT11 is equipped with an i7-11390H processor, 16GB RAM, and a 512GB SSD. It's around $899 without one of the discounts you'll sometimes find for it, making it a little more expensive than the Mac mini. For the price, it's much smaller, however, and there's plenty of power on board. You can even upgrade the M.2 SSD and the RAM, and add in a 2.5 hard drive to add more storage, which is always a bonus.
Swipe to scroll horizontally
| | | |
| --- | --- | --- |
| Cinebench | GeekBench | 3DMark (Time Spy) |
| Multi-core: 5097 | CPU multi-core: 5537 | Total: 1450 |
| Single-core: 1401 | CPU Single-core: 1937 | Graphics: 1296 |
| Row 3 - Cell 0 | GPU: 10783 | CPU: 4497 |
Single-core performance is a particular strength here, where it keeps up with most of the competition. For everyday computing and light workloads, this little machine is going to be exemplary.
The truly huge thing here is the size – it is very small, even when compared to the other mini PCs on the list. If you've got a tiny desk, then this might just be the PC for you.
AceMagician CK10
Upgradeable storage
Specifications
Processor:
Intel Core i7-10810U
Ports:
Four USB type A, USB type C, 3.5mm headphone jack, two HDMI
Dimensions:
4.96 x 1.96 x 5.43 inches
Another from AceMagician, this time the CK10. The CK10 is a more professional-looking machine, with a more workload-oriented setup. While its chassis isn't quite as exciting as the AMR5, it's still a nicely shaped little box, with a cool pattern on the top that the fan blows cold air on the Intel i7-10810U inside. That's a top-shelf laptop processor, with its own Intel graphics on board.
Inside the relatively non-descript enclosure, you'll find more of the same kind of internals as the AMR5. There's 16GB RAM inside, along with a 512GB SSD. As with the AMR5, you can add another SSD, or plug in a SATA drive up to 2TB to give it plenty of storage space. Unfortunately, the RAM is soldered onto the board so no upgrading there – much like the Mac mini in question.
As a more conventionally shaped mini PC, CK10 can be attached to the back of a monitor with a Vesa mount, so that you can keep it hidden away from view, and make your desk look a little tidier. It even comes with a bracket in the box, so you don't have to buy one separately. Very nice.
Again, like the AMR5, the CK10 runs Windows 11, so you're not going to get macOS. You can of course replace it with Linux if you're looking for something to tinker with a little more, so that could be quite fun. If you want it to be reliable, however, make sure that you stick with Windows 11 Pro.
This machine is mostly going to be used for light workloads, so we've looked a little at how it compares to the Mac mini in that regard.
Swipe to scroll horizontally
| | | |
| --- | --- | --- |
| Cinebench | GeekBench | 3DMark (Time Spy) |
| Multi-core: 3673 | CPU multi-core: 3673 | Total: 421 |
| Single-core: 1048 | CPU Single-core: 1048 | Graphics: 366 |
| Row 3 - Cell 0 | GPU: 4698 | CPU: 3085 |
As we can see, the little machine is not quite as powerful as the Mac mini, but it still holds up for the price.
It also costs less than the Mac mini, at $499 from the AceMagician website. For that, you get more RAM, an Intel chip, and a Vesa mount, and while numbers don't mean everything, it's still a compelling option to have to choose from. This could be the perfect little movie or music server to tuck away behind a shelf for example.
Final Thoughts
You can always trust iMore. Our team of Apple experts have years of experience testing all kinds of tech and gadgets, so you can be sure our recommendations and criticisms are accurate and helpful. Find out more about how we test.
There are some great options out there that take the fight to the Mac mini, but the littlest Mac puts up an incredible defense. That M2 chip is potent, and for the price is an excellently powerful option.
Of course, if you want something with Windows on, then there are some great options. Our favorite is the AMR5 from AceMagic in terms of price to performance, and its fun form factor helps as well.
Looking for something super powerful to go up against the Mac Mini with M2 Pro? Then the Intel NUC Enthusiast is going to be an epic option. It's super powerful and smashes its way through loads of different workloads and tasks. It does cost lots though. As in lots.
Finally, the ChromeBox proves that there are options beyond the Windows and macOS ecosystems. It's not quite as powerful as the Mac mini, but the ChromeOS on board means that will be slick and useable for a long time and for loads of different generations of users.
In the end, if you're looking for a small form factor machine with macOS on it, then you're basically stuck with the Mac mini. If you're looking to branch out, however, there are some other fantastic options.
Get more iMore in your inbox!
Our news, reviews, opinions, and easy to follow guides can turn any iPhone owner into an Apple aficionado
Buying Guides and Deals Writer
As the Buying Guides and Deals writer for iMore, Tammy puts over a decade of experience in finding the best prices of Apple products to work, helping you save money on the equipment that you want. An audiophile at heart, she loves all things audio and visual, but you'll also find her drooling over the latest Macs and MacBooks. With a Masters in screenwriting, Tammy likes to spend her free time writing feature-length and TV screenplays or driving digital cars around virtual circuits, to varying degrees of success. Just don't ask her about AirPods Max - you probably won't like her answer.