Logic & Final Cut Pro shows the iPad Pro still has a place in Apple's future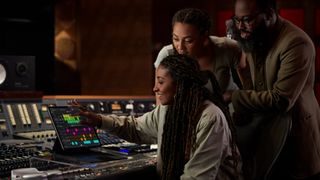 (Image credit: Apple)
WWDC 2023 may be a few weeks away, but Apple took the surprise step of revealing some big news for the iPad a little early.
In a press release (opens in new tab) this week, Apple confirmed that it's finally bringing Final Cut Pro and Logic Pro to the iPad lineup, and while you may not be a keen video editor or music producer, there's still a lot to be excited about. Finally, Apple seems to be lifting the brakes off the iPad Pro.
What's coming?
If you're new to the Apple ecosystem, you may not have heard of either app — and we wouldn't blame you, especially since neither has been on an iPad before.
Final Cut Pro is Apple's video editing software that's several levels more advanced than the iMovie app you can install for free. While many movie studios will use Adobe Premiere or DaVinci Resolve (more on that later), many filmmakers have used Final Cut, and it's only gotten better with the move to Apple Silicon thanks to increased performance in complex edits. It's an excellent editor, and a stepping stone to the most regularly-used suites found in professional studios.
Logic Pro is to audio what Final Cut is to video, offering a vastly more powerful editor than Apple's GarageBand alternative, while still offering a fairly digestible way to record music. It's found in plenty of classrooms for that very reason.
Both apps are coming to iPad, but you'll need an M1 chip or later in one of Apple's best iPads for Final Cut Pro, and A12 or later for Logic Pro.
Why it's important
Now that we know what each app is, it's time to roll back the clock to just a few months ago, October 2022, when Apple revealed the tenth generation iPad and the iPad Pro M2.
As we mentioned in our review of the latter device, the iPad Pro M2 is, well, basically just the iPad Pro M1. The new processor is faster, sure, but arguably didn't need to be, and Apple Pencil Hover is neat but only useful in rare situations.
Did the iPad Pro really need a spec bump when it's already ahead of the competition by so many metrics?
Then there's the way Apple marketed the new tablet, dubbing it a portable movie studio and showcasing DaVinci Resolve as a killer app. Apple already has Final Cut Pro purring on Apple Silicon Macs, but on the same processor, it felt like the company was quite happy to just concede ground to third parties.
Given the disappointment that was Stage Manager on iPadOS (one of our picks for things that need an update at WWDC 2023) and the fact that the M1 iPad Air is comparable in almost all the ways that matter, it felt a little like the iPad Pro had been forgotten.
With Apple getting these announcements out of the door weeks before WWDC 2023, however, there's a feeling that change is in the air and that Apple may just be more committed to the iPad Pro than expected.
The iPad Pro has long existed in a weird limbo thanks to its price point and functionality. On the one hand, an iPad Pro with a 12.9-inch display will set you back over a grand, making it more expensive than a Mac without factoring in a keyboard or Apple Pencil.
On the other, iPadOS, while a mature platform after years of iterative updates, still works very differently from macOS, meaning simple things like multi-user support, cohesive multitasking, and much more all work very differently - or don't exist at all.
The iPad Pro also hasn't seen a design revision in half a decade, and while we'd argue it's not really due one because of how modern the current version looks, it's certainly got people worried about the iPad line being condensed and the Pro being lopped off at the high end.
Okay, so the M1 iPad Air will also run Final Cut or Logic, but it's exciting to think about what Apple could do next on the iPad Pro. Could we see XCode come to the platform?
It's also likely that, given Logic and Final Cut Pro work with large files, we could see an iPadOS update that overhauls the Files app which still feels cumbersome at the best of times. Then there's potential for an iPad Pro with more than one USB-C port (as unlikely as it is) for transferring heaps of data into either of the apps.
App Subscriptions?
It's not often such excitement arises from Apple unveiling ports of apps that should have been here for a while, but there are reasons to be cautious, too.
Both apps will offer a one-month free trial before moving to a $4.99 per month (or $49 per year) subscription. That may be very reasonable for a creative intending to build a livelihood on either, but if you're already paying for the likes of Apple One and any other third-party subscriptions, that could be a nuisance.
It's also likely to upset those that have paid out potentially hundreds of dollars for the Mac version of each app. It's certainly disappointing that there's no discount and a quick glance at Reddit will tell you there are many that would rather pay the whole lot upfront to get the same app they already own on an already expensive tablet.
It also makes us wonder if the Mac versions could move to a subscription service (as many others have), but that's a discussion for another day.
All in all, it's nice to be excited about the iPad Pro again, even with its ridiculous price and iPadOS quirks. The imminent arrival of Final Cut Pro and Logic Pro aren't the be-all and end-all, but they certainly suggest rumors of its demise have been exaggerated… possibly.
Get more iMore in your inbox!
Our news, reviews, opinions, and easy to follow guides can turn any iPhone owner into an Apple aficionado
Lloyd Coombes is a freelance writer with a specialism in Apple tech. From his first, hand-me-down iMac, he's been working with Apple products for over a decade, and while he loves his iPhone and Mac, the iPad will always have his heart for reasons he still can't quite fathom.

Since moving from blogging to writing professionally, Lloyd's work can be found at TechRadar, Macworld, TechAdvisor and plenty more.

He's also the gaming editor of Dexerto.com, and on the rare occasion he's not writing you'll find him spending time with his son, or working hard at the gym (while wearing an Apple Watch, naturally). You can find him on Twitter @lloydcoombes.