Apple VR/AR headset: What to know about Reality Pro
Apple Reality Pro is coming — here are all the latest rumors.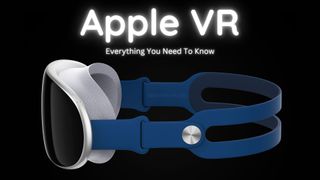 (Image credit: Ian Zelbo (Edited))
We're just weeks away from Apple's WWDC 2023, which will take place on June 5 -- and carry "one more thing." This year, we expect Apple to unveil its brand-new virtual reality headset to the world for the first time.
The rumor mill is grinding up to full speed amid reports that the Apple VR Reality Pro will take center stage at Apple's annual Worldwide Developer Conference, along with a new operating system: xrOS. That said, who knows when the company will release the Apple VR headset to the public for purchase; it's likely Apple could unveil it several months before it ever hits the shelves.
Virtual reality uses computer-generated images to create simulations of 3D environments and images that you can interact with, often through a headset. Built-in sensors and additional peripherals let you move freely through these 3D spaces, creating immersive digitized worlds for you to explore. Currently, big players on the market include HTC with its Vive line, Sony's Playstation-compatible PSVR and PSVR 2, and the artist formerly known as Facebook's Meta Quest 2 and Meta Quest Pro.
Augmented reality, said to be a secondary feature of the Apple VR headset, is a similar but different concept. It uses computer-generated images super-imposed over the real world to create dynamic experiences that combine virtual reality and the real world, whether through a smartphone display or, as in this case, through a head-mounted screen in front of your eyes. A good example of this is the popular Pokemon Go mobile game.
The rumored Apple Reality Pro headset will offer a combination of mixed and virtual reality experiences in a premium device, in typical Apple fashion -- including the typical Apple price tag.
Apple VR headset: Latest news
May 3: A full 3D render of the Reality Pro has cropped up, and boy does it look good. (But that external battery seems like an even worse idea now that we've seen what it could actually be like.)
April 26: The project is now in the "final spring" and is ready to enter the supply chain stage of production, reports suggest.
April 20: One tester gets a secret demo and hands-on experience using Apple's upcoming virtual reality headset -- and he was "blown away" by the new device.
April 19: An insider report reveals the five key applications Apple's VR Reality Pro will offer: gaming, fitness, collaboration tools, new versions of Apple's existing iPad features, and services for watching sports.
April 11: A shakeup in manufacturing! Apple has reportedly asked Pegatron to hand manufacturing and final assembly to the Chinese supplier, Luxshare.

Apple VR headset: AR, VR, or both?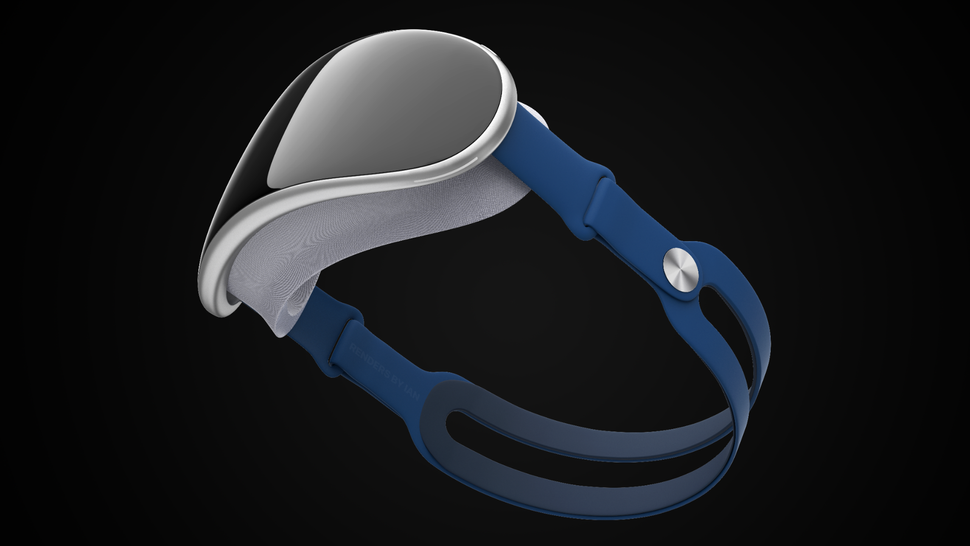 Apple's headset is reportedly a mixed-reality headset. That means it will offer full virtual reality experiences (think Meta Quest, Beatsaber, etc.). However, it is also expected to feature an augmented reality offering that can overlay virtual assets on top of your real-world surroundings (think Minecraft Earth, Pokémon Go).
Apple CEO, Tim Cook, teased in an interview with China Daily USA that Apple is "incredibly excited about AR". Cook also said that he thinks we are still in "the very early innings of how this technology will evolve" but that he couldn't be more excited about the opportunities in space. While we know Apple is working on an AR-focused device as well, it's possible that Cook could be hinting at the Apple VR headset and its dual AR capabilities.
In early 2023, a report from Mark Gurman at Bloomberg indicated that the headset will support both virtual and augmented reality. Gurman said that the headset, like the Apple Watch and AirPods Max, will feature a Digital Crown which "lets users switch between VR and AR. When in VR, the wearer is fully immersed. When AR is enabled, the content fades back and becomes surrounded by the user's real environment."
Apple VR headset: Design
Image 1 of 6
Fans from around the globe have ideas about what Apple's VR headset might look like. The images above, for example, come from ADR Studio Design, and feature a Digital Crown -- the main interface to the Apple Watch, and an intriguing way to unify Apple's products.
Apple's VR headset was once thought to be a companion device that would use a hub for much of its processing power, but it is now understood Apple VR could be a standalone headset that doesn't require any external processing or power supply, so this image broadly matches expectations for how Apple's VR headset could look. Note the headband's design, which is similar to the one seen in the AirPods Max over-ear headphones, potentially bringing some nice visual symmetry to the product lineup.
Reports indicate the headset will be made from a mixture of lightweight materials including glass and aluminum. It may also feature a Digital Crown like the Apple Watch and AirPods Max that will be used to change between AR and VR. Turning the dial is said to slowly merge the virtual and real worlds through the headset visor, which would make for an impressive party trick and help with accessibility fears — regular complaints put against VR are those which claim using them makes a user feel claustrophobic and removed from their surroundings.
According to another recent report, the new headset will possibly feature a battery pack that the user wears on their waist, connected to the headset by a cable. This will help to reduce the weight of the headset and will allow for hot-swapping batteries during playing sessions so you don't have to take your headset off and charge it or revert to a wired connection. Despite the pack being expected to come in around the size of two iPhone 14 Pro Max's glued together, the headset is expected to only feature around two hours of battery life. This detail appears to have been debunked now, though it persists in reports online, suggesting that the hip-worn battery pack could potentially be an additional sold-separately accessory.
In a freelance contest run in January 2023, a 3D artist by the name of Ahmed C. created an incredible concept of what the Reality Pro headset could look like. Looking at the concept image below, you can see how Apple could take inspiration from the AirPods Max, Apple Watch, and iPhone for the design elements that make up the headset.
Image 1 of 2
Apple VR headset: Release date rumors
According to the latest reports, Apple VR's headset is set to be released in the second half of 2023. The project has reportedly been delayed and is behind schedule. Ming-Chi Kuo predicts the headset will be unveiled either at an event in the Spring or at WWDC 2023, which is set for June 5.
More recently, the ultra-reliable Mark Gurman at Bloomberg has suggested Apple will reveal its new headset before WWDC in June. That means we can expect to see Apple Reality Pro sometime before the end of 2023, but we might not see it in stores and on shelves until the back end of the year. This seems to make sense as an earlier unveiling would give developers time to create apps and experiences for Apple Reality Pro.
In February 2023, Bloomberg's Mark Gurman reported that the company, which initially planned to unveil the headset at a standalone event in April, has delayed the announcement until its Worldwide Developer Conference in June. According to that report, Gurman says that the headset is delayed due to "both hardware and software issues [that] still needed to be ironed out." It will also give the company the opportunity to showcase the hardware, software, and developer tools in front of its developer community and at arguably its largest event of the year.
More recently still, one top analyst says that there is a growing probability the Apple VR headset will be released alongside the iPhone 15 in September.
However, even with all these delays factored in, it may be still too early a release to satisfy the needs of Apple's engineering and design teams. There's said to be a degree of internal conflict among Apple's teams surrounding the launch, according to a report from the Financial Times (opens in new tab), with CEO Tim Cook siding with operations chief Jeff Williams to push ahead with a 2023 launch, against the design teams' wishes.
Engineers and designers are said to have preferred a potential AR-glasses launch over the ski-goggle-like VR-focussed headset which is expected to be the product we'll see before the end of the year. The AR-focussed smaller device, however, remains many years away from being ready — and seemingly too many years away from an on-sale-date for Cook's (and shareholders') liking. Former engineers have expressed a "huge pressure to ship" the device, which will represent a milestone in Cook's tenure as CEO, being the first all-new computing product category launch under his leadership.
Apple VR headset: xrOS operating system
According to Mark Gurman, the Reality Pro's operating system is called xrOS and is internally codenamed "Borealis," possibly a nod to the visual spectacle of the Aurora Borealis, or Northern Lights.
According to a report in early 2023, the xrOS operating system will be able to run existing iPhone apps from iOS as 2D windows, however, there will also reportedly be a big focus on virtual meetings and education uses.
A patent filed by Apple with the European Patent Office suggests that the operating system may share some features present in MacOS and iOS, too — namely, those relating to Apple's Continuity feature set.
Continuity features such as Handoff and Universal Control, according to the "Multi-Device Continuity for use with Extended Reality (XR) Systems" patent, could let a user select a HomePod speaker to sling a music track to just by looking at it in the real world, or even add virtualized additional display space to a MacBook that you're sat in front of while wearing the headset. It would represent a key selling point against VR competitors like the Meta Quest line, which doesn't have a broad suite of 'companion' devices in its ecosystem to work alongside.
Apple VR headset: What will it be called?
In a report at the end of August 2022, Bloomberg's Mark Gurman reported that Apple has filed multiple trademarks regarding the potential naming of its headset and the processor that will power it.
According to the report, Apple has filed trademark applications through proxies for the names "Reality One," "Reality Pro" and "Reality Processor," in the US, EU, UK, Canada, Australia, New Zealand, Saudi Arabia, Costa Rica, and Uruguay.
Going by the flow of rumors coming in, which now suggests Apple will quickly follow up an initial, premium headset launch with a more budget-friendly variant as soon as a year after release, we're expecting the first headset to be the Apple Reality Pro, and the stripped-back version to be the Apple Reality One.
Apple VR headset: Features and specs
Apple's headset is tipped to be a "pricey" and "niche" competitor to established VR headsets. In early 2021, a huge story from The Information claimed that Apple's VR headset would have two 8K displays for high-fidelity visuals. It will also reportedly come with eye and hand-tracking technology for full immersion.

The Apple VR headset could run on Apple's new Apple silicon chips, having debuted in its Mac lineup in recent years. According to Bloomberg:

"Apple is aiming to include some of its most advanced and powerful chips in the headset along with displays that are much higher resolution than those in existing VR products."

Reporter Mark Gurman has even said that the M2 chip — Apple's newest silicon darling that powers the M2 MacBook Air and M2 Mac Mini — is slated to be the brains of the Apple VR.
There have also been reports that (opens in new tab) Apple's headset will use small motors to automatically adjust its lenses for a better viewing experience.
The headset reportedly not only has two inward-facing displays but a large outward-facing display that can show the facial expressions of the person wearing the headset. It will also purportedly have a 120-degree field of view.
Apple's so-called Reality Pro wearable apparently doesn't work with third-party Bluetooth headphones and doesn't have a headphone jack. Instead, it will work supposedly only with AirPods or through speakers built into the headset. This feels like a bit of a stretch — unless Apple is using specific functions of its H2 and U1 chips found in AirPods for positional data, it'd be difficult to justify.
In January 2023, Mark Gurman's Power On newsletter added some additional details as to what users can expect in terms of a FaceTime experience with the headset. The reporter said that "the headset's FaceTime software will realistically render a user's face and full body in virtual reality. Those avatars will allow two people — each with an Apple headset — to communicate and feel like they're in the same room. The technology differs from virtual meeting rooms on Meta's headset, which creates a more cartoon-like avatar of the user."
The report also noted that the headset will "show immersive video content, serve as an external display for a connected Mac, and replicate many functions of iPhones and iPads."
Apple VR is not expected to require an iPhone or any other type of base station to use, and will also reportedly feature "in-air typing," with gesture controls allowing users to enter text and navigate UI elements without the need for additional controllers. Expect a fully 'hands-free' interface.
Apple VR headset: How much will Apple VR cost?
Brace yourself: Apple's VR headset could cost a whopping $3,000. It was previously reported it would be an expensive product that would cost much more than current competitors, which tend to be priced between $300-$900.
According to JP Morgan, Apple VR could cost more to make than the iPhone 12, and so pricing would need to reflect that to ensure Apple still makes a tidy profit on each unit sold. All signs point to Apple VR costing a very large sum of money. Similarly, Bloomberg's Mark Gurman suggests the headset will cost between $2,000 and $3,000.

Several Apple leakers have described the Apple VR headset as "game-changing" and "industry-leading," two sets of adjectives that usually aren't followed by "cheap". In other words, if you're looking to be an early adopter, get saving now. Otherwise, you may want to hold out for a second generation headset, which is rumored to be where Apple will introduce more affordable price points by stripping back some of the more premium features.
Get more iMore in your inbox!
Our news, reviews, opinions, and easy to follow guides can turn any iPhone owner into an Apple aficionado
Gerald Lynch is the Editor-in-Chief of iMore, keeping careful watch over the site's editorial output and commercial campaigns, ensuring iMore delivers the in-depth, accurate and timely Apple content its readership deservedly expects. You'll never see him without his iPad Pro, and he loves gaming sessions with his buddies via Apple Arcade on his iPhone 14 Pro, but don't expect him to play with you at home unless your Apple TV is hooked up to a 4K HDR screen and a 7.1 surround system.
Living in London in the UK, Gerald was previously Editor of Gizmodo UK, and Executive Editor of TechRadar, and has covered international trade shows including Apple's WWDC, MWC, CES and IFA. If it has an acronym and an app, he's probably been there, on the front lines reporting on the latest tech innovations. Gerald is also a contributing tech pundit for BBC Radio and has written for various other publications, including T3 magazine, GamesRadar, Space.com, Real Homes, MacFormat, music bible DIY, Tech Digest, TopTenReviews, Mirror.co.uk, Brandish, Kotaku, Shiny Shiny and Lifehacker. Gerald is also the author of 'Get Technology: Upgrade Your Future', published by Aurum Press, and also holds a Guinness world record on Tetris. For real.