5 cool Google I/O announcements that Apple should steal
WWDC 2023 is right around the corner.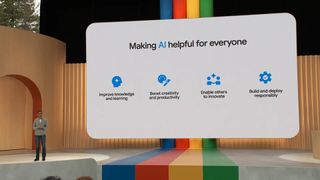 (Image credit: Google)
Just as Apple has WWDC, Google has I/O. Over the years, some pretty great announcements have come from Google I/O, and the company just held its keynote of I/O 2023. There were a ton of exciting reveals this time around, many of which are going to be fundamental to how technology changes in the upcoming years.
Google spent a good chunk of the I/O 2023 keynote discussing AI, with some hardware news thrown in. With Apple's WWDC 2023 right around the corner, here are five cool announcements made at Google I/O 2023, that Apple should totally rip off.
Starting with the obvious: A whole lotta AI... to Siri
Google I/O 2023 was majorly about the artificial intelligence work that the company is creating across its multiple products and services. There were quite a few AI announcements today, and Apple needs at least a few of these, starting with the Google Bard upgrades.
Google Bard, an AI-powered chatbot, is the company's ChatGPT alternative. It just got a bunch of new features and a more public release. Bard is now running on Google's new PaLM 2 large language model and is smarter, faster, and capable of better contextual responses. All the while, Apple is yet to join the ranks of companies that have an AI project even known to be coming up.
Google Bard has a newfound harmony with other Google services, including Google Maps, Google Docs, Google Sheets, and Gmail, picking information from all over the place to help make the overall ecosystem experience all the sweeter. All of this makes you wonder — What if Siri could do all these things?
Apple is being very careful about AI, and probably rightfully so, but Siri is long overdue for an upgrade, and Google Bard is an excellent example of the kind of features that would make our favorite voice assistant an actually useful one. In the meantime, replacing Siri with ChatGPT is about as good as it gets.
Google Photos Magic Editor: iPhone deserves a better Photos app too
Google Photos, to this date, remains my favorite Google product. I've been using it since it launched in 2015, and it has remained my primary photos app even when I've switched to iOS and back. While the Apple Photos app is decent enough for a gallery app of yore, Apple has not really upgraded it enough to make it a tempting offering for today.
Case in point — Google's new Magic Editor feature. It's a step up from the Magic Eraser feature that lets you erase distractions from the background. Magic Editor will let you make a lot more advanced edits, like moving subjects around without leaving a gap in the background and changing the weather and lighting.
A phone that is as loved for its photography as the iPhone is really needs to have a more advanced photo editor. There are the classic questions of "What is a photo?" and "Don't bad photos make for better memories?" Sure, but that's not an excuse to not have anything other than basic photo editing features. I hope Apple has at least some plans to bring Photos closer to Google Photos in terms of functionality.
Google Pixel Fold: Where's the foldable iPhone, Apple?
Foldable phones have been around for a while now, and today Google officially unveiled the Pixel Fold after what feels like a hundred thousand leaks. Google is far from an early adopter here, but the offering looks robust on paper. The Pixel Fold will surely have even more people scratching their heads over why Apple doesn't have one of its own yet.
We recently pondered over whether Apple is late to the foldable party. Foldable phones haven't been huge sellers just yet, but Apple could really drive it into the mainstream. There's so much potential there, too. Apple has a better understanding of how bigger touchscreen interfaces should work, and if it wants to make an iPhone Flip, I'm sure it would find a way to engineer that well, too.
So yes, a foldable iPhone needs to be one of those things Apple rips off from Google I/O 2023 (if not from the others before the Pixel Fold.)
Google Pixel 7a: Apple needs a better iPhone SE
Apple did it first. The iPhone SE predates the Pixel 3a, which was the first budget Pixel you could get. However, the current iPhone SE, while perfectly functional, feels woefully outdated. Apple needs a better budget phone — and one on an annual update cycle like Pixel's A series.
I've always been a defender of the iPhone SE. The first iPhone SE was actually the first iPhone I ever bought, and I can say that the following models have stuck to the winning formula. Regardless, it's time for change. With the Dynamic Island going mainstream with the iPhone 15 series, I want Apple to at least resurrect the iPhone mini as the new iPhone SE, and get rid of the ancient iPhone design that has still stayed alive through the iPhone SE.
Apple can make a much worthier Pixel 7a competitor, and the next iPhone SE needs to be exactly that.
RCS messaging: Or at least a middle ground
This isn't quite an announcement to rip off, but instead, a talking point to take away. Maybe Apple should adapt RCS? I'm saying this mostly so Google can stop inserting the Blue bubble-Green bubble nonsense into everything. The Google I/O 2023 keynote had a lot of new and exciting announcements, yet Google found a way to toot its RCS horn.
The dig came right after Google announced Unknown Tracker Alerts — an industry standard to prevent misuse of trackers like AirTags. This is a feature that Google developed in collaboration with Apple, which makes this a well-scripted irony. I'm not suggesting Apple should just accept defeat and adopt RCS. I've previously discussed how Google needs to look at its own messaging strategy before pushing RCS onto Apple.
But I think this is one of those cases where Apple should be the bigger one and work with Google and GSMA to reach a middle ground on RCS. Even if it's just to make Google quit its whining. While the bubble-color discrimination seems to be a US problem largely, Apple doesn't stand to lose all too much by reaching an agreement with Google and others on an RCS implementation fit enough for the best iPhones.
WWDC 2023 is right around the corner
Now that Google's done announcing all of the cool stuff it has worked on for the last year, Apple's WWDC 2023 is going to be next. It will be held on June 5-9, 2023. We can expect the usual announcements, like iOS 17, a big watchOS 10 update, and more on the software side, with some hardware upgrades like a new MacBook Air 15 expected to debut.
The focus is likely going to be on extended reality, however, with Apple set to unveil its first mixed-reality headset, and a software suite that will revolve around it. This is something Google doesn't really seem to be focusing on, so it will be exciting to see what Apple puts out that others will try to emulate next.
Get more iMore in your inbox!
Our news, reviews, opinions, and easy to follow guides can turn any iPhone owner into an Apple aficionado
Palash has been a technology and entertainment journalist since 2013. Starting with Android news and features, he has also worked as the news head for Wiki of Thrones, and a freelance writer for Windows Central, Observer, MakeUseOf, MySmartPrice, ThinkComputers, and others. He also worked as a writer and journalist for Android Authority, covering computing, before returning to freelancing all over town.


...and then get sued!!! All kidding aside, after reading the article, I do agree that iPhones do deserve a better photo app, which has better editing features!

Reply